April 4, 2020
5 Things To Consider When Adding A Deck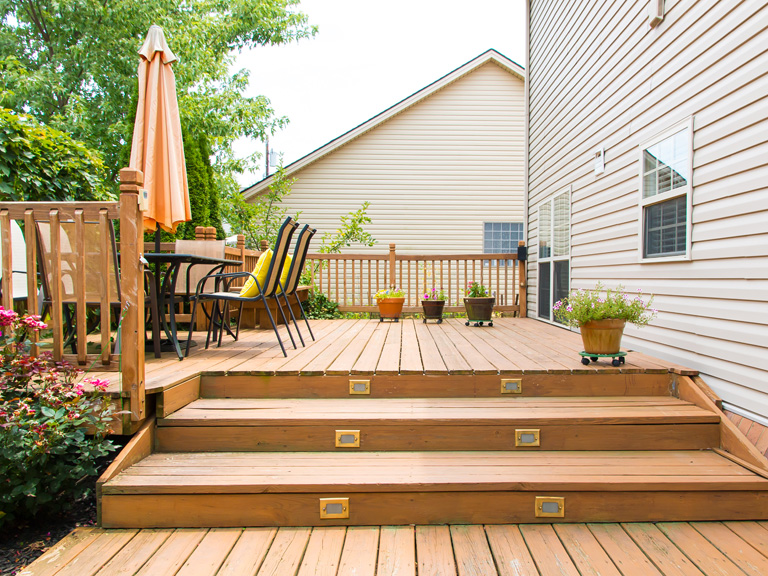 When the weather is warm, the thoughts of many homeowners turn to things like relaxing outside their homes or entertaining family and friends in their backyards. A new outside platform is a home remodeling project that will help you enjoy both of these activities. However, homeowners who are considering adding a deck to their home should first take a moment to consider the following points:
Material Options
Adding an outdoor space to your home is a quality investment that will add to your home's value. You will provide yourself with additional square footage and a space that will enhance the quality of life for your family. There are a number of options for materials available for you to consider during the planning process for your project. Each of these material options presents different costs, levels of durability, and quality
Pressure Treated Wood – Pressure-treated wood is a common and inexpensive material option. Southern Yellow Pine is often the source of pressure-treated wood. Chemical solutions are added to the raw tree product that helps protect the wood against rotting and termite damage.
Tropical Hardwoods – Durable material that could last for more than a quarter of a century. The density of tropical hardwood makes it difficult for workers to hammer holes into the material. These woods are naturally resistant to both the elements and insects. They also come in a variety of attractive colors.
Cedar and Redwood – These materials are also able to naturally resist insect damage. The boards are lighter in weight and a little less durable than tropical hardwoods. However, cedar and redwood offer a firm material that will provide the foundation for the outside addition to your home for two decades.
Composite Decking – This material is built from waste wood and plastic materials. Composite decking materials provide a wood appearance and will not splinter. Composite decking is typically heavier and more expensive than real wood material.
Function and Style
The size and style you settle on for the outdoor addition to your home should complement the overall appearance of your home. Many homeowners mistakenly construct outside platforms that are too large in proportion to their backyard and home. A good rule of thumb is that the square footage of an outdoor addition to your home should never equal more than half of the square footage possessed by your home or yard. A backyard space that is out of proportion with the rest of your home will not only look a little awkward. It may also decrease the value of your home.
You should also possess a clear vision of how the space in your yard will be used before the home improvement project begins. Seating and a dining area will be needed if the main function of your deck will be entertaining company. If you plan to mostly relax when you enjoy your new outdoor home addition, your options may include benches or built-in seating.
Maintenance
Another important consideration with an outdoor addition to your home is the time, effort, and cost to maintain the space over time. If you choose wood materials for your outside space, the material will need to be sealed or stained periodically to protect your investment. How often the space will need these treatments will depend on the wear and tear experienced from traffic and the elements. Composite decking materials may be the right selection for homeowners who desire an outside space that does not require much for them to maintain. You will only need water to rinse composite decking two or three times a year.
Lighting
Proper lighting will increase the number of hours in the evening and night the space in your backyard will be available to you and others. The type of lighting you use will be directly related to the activities that will take place in the space. An outdoor space that was constructed for relaxation might be better suited to ambient lighting. Task lighting will help you facilitate your activities if your outdoor space will be used for grilling and lounging. You should also consider safety lighting to aid you, members of your family, and guests in efforts to navigate railings and stairs.
The Work
Building an additional space outside your home is labor-intensive and will require a great deal of design and planning. For most people, employing the services of a professional to complete this and other home remodeling projects is a good idea. However, many homeowners familiar with home improvement projects opt for the do it yourself approach. The fact is, a true professional like those working for KNS Remodeling in Winston-Salem, North Carolina will save you a lot of potential headaches while adding a quality space outside of your home.
The Bottom Line
There are a number of great reasons that exist to add an outdoor space to your home. You will provide yourself with an excellent opportunity to find peace and tranquility, you can spend hours of fun time with your friends and family, and you may add significant value to your home. However, homeowners should look before they leap when considering a complex home remodeling project. The five issues above should be settled in the mind of the homeowner before work on a new deck begins.
If you are ready to get started constructing a space for recreation or family gatherings outside of your home, you can initiate the process by calling KNS Remodeling for an estimate at (336) 904-8853. A representative of the company can also be reached at this online contact form.