December 11, 2019
8 Great Ways to Improve Your Kitchen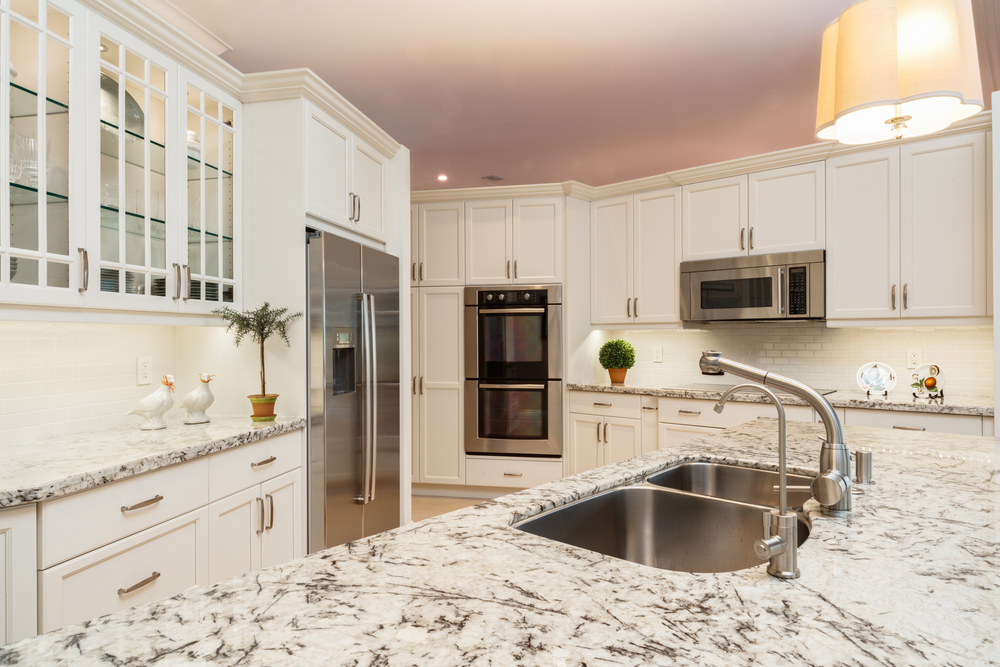 The Importance of Kitchen in your Home
The kitchen is often the place where everyone gravitates. It's where we gather around a table or island and eat too much, talk too much, laugh, and sometimes share our troubles. It's the place where you make memories with your friends and family. As a result, many people want their kitchen to be the centerpiece of their home, but they don't know where to start when it comes to making this room spectacular and how to Improve Your Kitchen.
KNS Remodeling's team understands because we too find our kitchens are usually the place where our families connect. So, we're offering eight ways you can improve your kitchen, and some of them are budget-friendly, easy upgrades while others will make a dramatic change to your kitchen.
Change Your Color Scheme
Updating the color scheme is a relatively inexpensive for your kitchen too improve. Not to mention, your choices on color schemes are endless. Furthermore, you would be surprised how much painting just the walls or cabinets will impact your kitchen.
Some of our favorite ideas are painting your cabinets white or black, so you can decorate throughout the year with numerous designs. For instance, using the same hue, such as blue, gray, or red but in different tones is a great way to create a balanced and appealing kitchen.
On the other hand, you can use neutral tones like white, black, grey, brown, and even wood to make the appliances, accents, hardware, and décor the stars of your kitchen.
Renovate Your Kitchen
Home improvement is fun and gives you the chance to design the kitchen of your dreams. If you decide to completely redesign your kitchen, you get your choice of cabinetry, appliances, accessories, window treatments, and so forth.
Some of our favorite kitchen renovation jobs have been the ones where we work alongside the client to help them choose color palettes, hardware, and decorations that express their unique personality in a way that is composed and beautiful.
Upgrade Your Appliances
Upgrading your dishwasher, stove, oven, and other appliances might seem like a simple adjustment but it can change your kitchen drastically. For one, you can improve your kitchen look more modern with newer appliances or warmer with antique pieces. On the other hand, you can use unique pieces like a dresser for an island, to give your kitchen some punch.
Meanwhile, buying kitchen appliances in odd colors and designs is the type of kitchen remodel that will give it an eclectic feel. There are so many possibilities when it comes to changing the appliances in your kitchen that you can certainly design something that is distinctly your own.
Change the Lighting
Not only is changing the lighting in your kitchen usually a cheap fix, but it's also a quick and effective home remodeling tactic. Whether it's making the room brighter or dimmer, the lighting in your kitchen creates an ambiance and it's your choice as to what kind of atmosphere you want your kitchen to have. In addition, lighting fixtures help set the tone of your kitchen. For instance, clean, simple lighting can give your kitchen a modern or chic feel while extravagant lighting fixtures may create a classic tone in your kitchen. You could even use exposed lighting pieces to make your kitchen look more rustic.
Add New Window Treatments
Window treatments have the ability to make your kitchen look dated, boring, out of balance, and much more. That's why updating window treatments is one of our favorite kitchen remodeling steps. Furthermore, they add those finishing touches to your kitchen that completes the design you're aiming for.
We also like that you can change out your window treatments according to the holidays, season, or just because you want to, completely changing the environment of your kitchen.
Redecorate Your Kitchen
Another type of home remodeling that we often suggest is simply redecorating your kitchen because it's inexpensive, easy, and fun. Redecorating your kitchen includes everything from changing out the cushions on your chairs to upgrading smaller appliances like your coffee machine or mixer.
This process is fun because it gives you the chance to splurge on some retail therapy. You can update your fruit bowls; add some fun appliances, such as popcorn maker; or just change some canisters and art décor on the walls.
Add Unique Backsplash
We like statement pieces in a kitchen, including a pop of color or unique backsplash. Those neat and gorgeous patterns and colors you love but fear will make your kitchen look too busy are excellent statement pieces.
One solid color backsplash in a neutral kitchen or backsplash in odd colors, patterns, and shapes makes your kitchen look interesting and distinct. Furthermore, they are great conversation pieces when you have guests over.
Flooring
Speaking of statement pieces, don't underestimate the power of updating the flooring in your kitchen too. Wood floors are often classic, warm, and inviting while checkered black and white floors give your kitchen a modern or antique feel depending on the kitchen design you choose.
The Bottom Line
Although we've discussed eight ways to renovate your kitchen, your home improvement choices are numerous. That's why we always recommend you hire a reputable and professional home remodeling agency like KNS Remodeling because you'll receive expert advice on how to create a kitchen that you'll love for years to come. Feel free to contact us today for an estimate.