December 4, 2020
Get in Shape with a Home Gym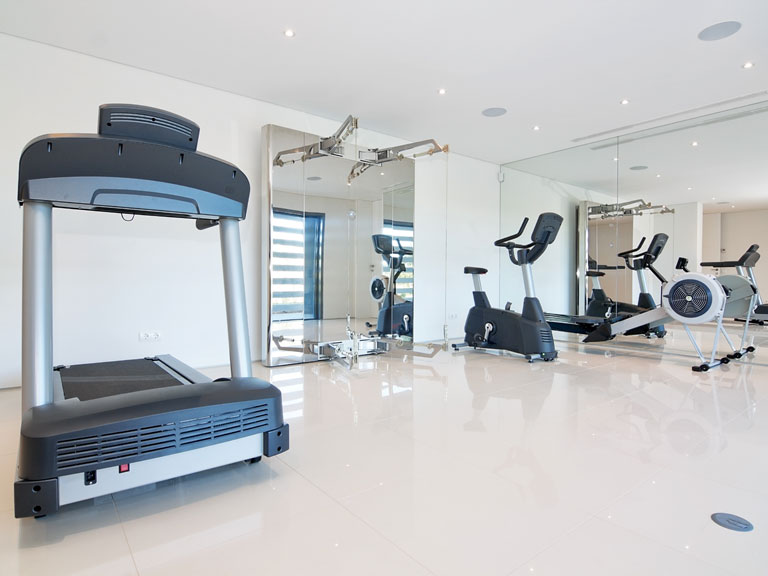 More and more people want to learn how to get fit without leaving home. The good news is that you do not need a gym membership to get in great shape. Better yet, you do not have to leave your house. All of that can be accomplished when you choose to get in shape in your own home gym with KNS Remodeling.
When choosing your own gym, there are a few questions you should consider before taking on the endeavor. Next, you should weigh out your options by taking a look at the pros and cons of having a gym at home versus a gym membership in addition to knowing all of the benefits. Once you have decided to go forward with the project, there are plenty of options to choose from.
A Few Questions to Consider
Here are a few questions to consider before deciding to make your own gym:
What are your reasons for creating your own gym?
Do you find that the travel time from your house to the gym affects the number of sessions you do each week?
Are you tired of the typical sweat-stained, busy, and sometimes uncomfortable gyms?
Are you tired of the additional expense to pay extraordinary fees and get locked into year-long gym memberships just to share a facility with others?
Answering these questions will help you arrive at a better decision on whether building your own gym is right for you.
Home Gym vs. Gym Membership
One huge plus of having a gym at home is the convenience it provides. You can use it anytime you want 24/7, 365 days a year. Unlike a gym membership where there are specific days and hours when it is open, you do not have to deal with this problem with a home gym.
You also do not have to worry about gym closing during late nights, weekends, or holidays. A closed gym can be a huge letdown in terms of maintaining your workouts and getting in shape.
Due to the COVID-19 pandemic, gyms keep closing down, sometimes reopening, and then get shut down again. Not only do you lose money on a wasted membership, but the gym shutdown periods wreak havoc on your workout schedule. When you have your own setup, you are in full control of your training schedule.
Benefits of Adding a Home Gym
The biggest benefit of adding a home gym is that you are going to save a lot of money over time. Although the cost of gym equipment has risen in the last few years, it is possible to find everything you need for your gym by purchasing used items from eBay, Craigslist, Facebook Marketplace, or yard sales.
Let's do the math. If you purchase mostly used items like dumbbells, bars, racks, benches, rubber mats, equipment, and other equipment for your gym, it is possible to stay under $500 if you purchase wisely. A gym membership with most popular franchise gyms will cost $40 a month and that is just for the basic package.
When you multiply $40 times 12 months in a year, you are throwing away $480 when that same money could have been invested into your own gym. It also means that after 12 months, you would start to get a return on your initial $500 investment.
Another great benefit of adding a home gym is that you do not have to wait on any equipment. If you have been to a busy gym, you have probably been in a situation where the bench or the squat rack is always crowded.
When there is no chance to get in a set, you have to change up your routine. You cannot get in your workout because someone is always taking up the equipment. This can be very frustrating and throw your whole workout off. With your own gym, you never have to wait on anyone for equipment.
Convert Existing Room

Some people think that building a gym is costly but you can put as much money into it as you want. To convert an existing room into a home gym, the most common places are spare bedrooms, basements, garages, or attics. Before converting an existing space, you should first determine the recommended gym equipment space requirements:
A stationary bike requires the least amount of space with 10 square feet. Free weights or a rowing machine require from 20 to 30 square feet. Treadmills, elliptical machines, and single-station gyms require from 30 to 35 square feet. Multi-station gyms take up the most space from 50 to 200 square feet.
Next, you should measure out everything you want in your gym space and get a picture of your desired layout. Other factors you should consider are temperature and airflow since you will probably be sweating a lot and your gym should have good ventilation.
Other factors to consider are:
Mirrors
Lighting
Music/Video player
Inspirational artwork
Flooring/Floor coverings
Towels
Fan placement
Water station
Home Gym Addition

A gym setup can add value to your home as an add-on addition when you do not have enough room in your existing home. Although this is the most expensive option, it is worth something to consider.
If you know you will be using your gym a lot, you should choose this option. Best of all, a home gym addition means that you can customize it the way you want so that it perfectly suits your needs.
Improve Your Health, Save Money
We know that the best part about getting in shape with your own gym is that you maintain and improve your health. You will also save a huge amount of money in the long run. Contact the team at KNS Remodeling and let us show you how your gym idea can come to life.