April 12, 2019
Kitchen Remodeling: Tips for Choosing the Right Materials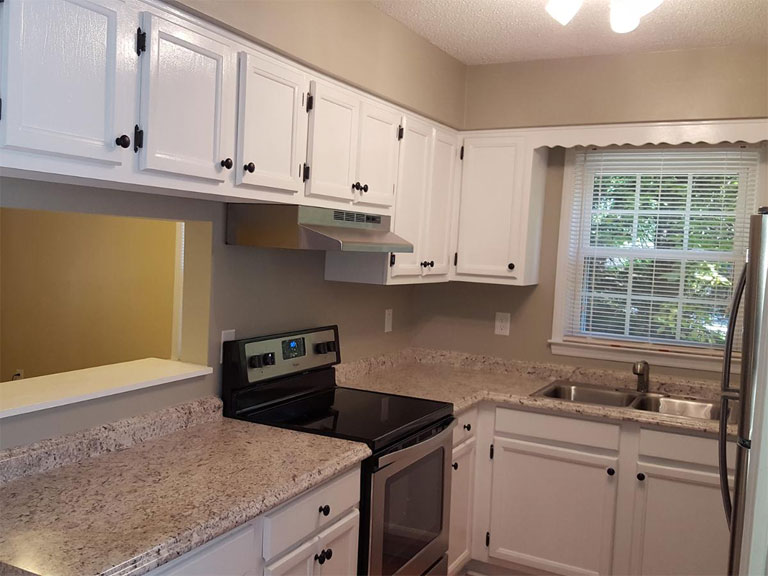 Kitchen remodeling can be one of the most stressful home improvements if it's not handled correctly. Not only are there a lot of decisions to be made about the specifics of your new kitchen, but you may have limited access to some parts of your kitchen for a brief period. An experienced kitchen remodeling contractor can eliminate most, if not all, of the stress associated with kitchen remodeling in choosing the right materials.
The biggest advantage of hiring a kitchen remodeling contractor is that you get the benefit of their experience in dealing with the intricacies of different kitchens. They will help you put a solid plan together, taking advantage of all of the available space, as well as advising you on specific areas of your kitchen and choosing the right materials.
Choosing the right materials for your new kitchen is the most important part of the process. Some materials are more conducive to different lifestyles. And, of course, there's that overall look that you are seeking for your new kitchen. Here are some tips for designing your new kitchen to suit your needs.
Cabinets
You can design your cabinets to suit your lifestyle. Not only are you choosing the material of the cabinets, but you also are able to select styles that blend best with the way that you use your kitchen.
The classic look of wood is making a strong comeback in kitchen cabinetry, taking advantage of exposing the wood grain and enhancing it with a variety of stained finishes. If the wood isn't the look that you are seeking, there are many other different materials that will appeal to you.
With the style of the cabinets, think about how you will be using them. Drawers, instead of doors, are becoming increasingly popular in the base cabinets for easier access. Upper cabinets can reach all the way to the ceiling, where you could store rarely used items on the upper shelves. Upper cabinets can also be without doors, creating open display areas. Kitchen islands are also a great use of space. Your possibilities are almost endless when it comes to creating your own style.
Hardware
You may even spend more time selecting the hardware for your kitchen cabinets. There are plenty of options and finishes to choose from. It's a lot like accessorizing. The knobs and handles can make or break the look of your kitchen. Make sure that you test the hardware with the cabinet finish to make certain it's the look you are going for.
Countertops
Call them the crowning glory of your kitchen cabinets, if you will. A beautiful countertop can actually be a focal point in your kitchen. Here are some of the many options you have for countertops.
Granite is the leading countertop material, both for its beauty and durability. Its cost can run on the expensive side but doesn't have to. Granite countertops will not only make your kitchen pop, but they will also increase the value of your home.
Engineered stone is made of quartz, making it available in a broader range of colors. It will hold the same value as granite and costs about the same.
A ceramic tile is still a popular option for many homeowners, and it will also add to the value of your home.
Laminate countertops are ideal if you are on a budget but still want a functional, durable countertop.
You can also choose countertops made of pewter-based soapstone, concrete, stainless steel, or other solid surfaces.
Lighting
Take advantage of your remodel and plan out both what style of fixtures you are looking for as well as where you want them. Think about where you will be spending time in the kitchen and set your lighting needs appropriately. There are so many different materials and designs for fixtures. Make sure to coordinate the materials and designs with the other hardware on the cabinets. It may take some time to sort through your options, but you'll find the perfect ones for your new kitchen.
Flooring
Again, you have so many options for flooring materials. Maybe, you've got a certain look in mind. Or, it might be more about durability. Here are some types of flooring you could consider to match both your lifestyle and the other features in your kitchen.
Wood: Whether it's real hardwood, engineered wood, or laminate, wood floors will create a classic elegance in your new kitchen. You can coordinate them with your cabinets in a variety of ways. But, they will need a little maintenance over time, especially if you have pets. While most, though not all, wood floors can potentially scratch, only real hardwood floors can be refinished.
Ceramic tile: It's another beautiful option with many different varieties and styles to choose from. Upkeep on tile floors is usually minimal. But, tiles can break and the grout may sometimes need repair after a few years.
Vinyl and linoleum: Still an affordable option, they offer many different, beautiful designs to choose from. Unfortunately, they're not as durable as some other flooring materials.
Appliances
This is not an area where you want to cut corners to save a little money. Always buy quality appliances from reputable manufacturers. Not only will they last longer, but their energy efficiency will save you money on your utility bills.
Also, take advantage of the remodel to incorporate your appliances strategically. You can create a work area conducive to productivity with a few simple design and placement ideas.
Let Us Take Care of Your Next Project
If you are thinking about kitchen remodeling, contact us at KNS Remodeling. Our team has over 16 years of experience with remodeling not only kitchens but also taking care of various other home repairs and even coordinating full home renovations. We'll be happy to meet with you, discuss your remodeling options, and even provide you with a free estimate for your project. We are the kitchen remodeling contractor who will take the stress out of your remodeling project in choosing the right materials for your kitchen. You'll quickly realize how we have earned the trust of so many satisfied customers in the Triad.