June 27, 2019
What to Do If Your Home's Roof Suffers Storm Damage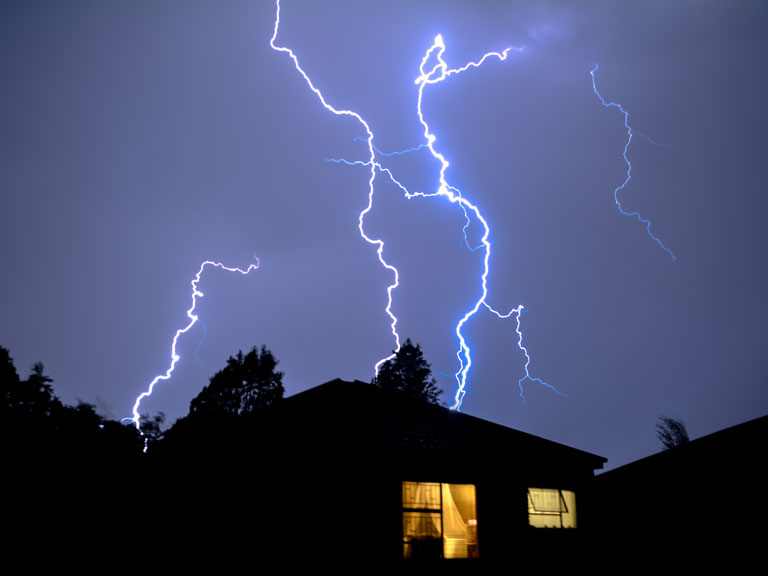 How should you respond after your Roof Suffers Storm Damage? Many property owners appreciate the risks of gusting winds and pounding rain sometimes impose on roofs. This brief article addresses steps to take to help maintain a roof in the Winston-Salem area during storm season. Following these useful tips could help you save money by quickly pinpointing any damage and obtaining repair services.
How Thunderstorms Damage Roofs
Thunderstorms don't even need to produce a lot of rain in order to cause some types of roof damage. For example, scientists have reported lightning strikes as far as 10 miles outside rain zones. Lightning may cause harm by striking a rooftop directly or, more commonly, by hitting nearby objects such as tall trees. The dead trunks (or heavy overhanging limbs) may eventually topple over. These types of accidents cause catastrophic damage to residential and commercial structures, including roofing systems.
Thunderstorms damage roofs in other ways, too. They may send barrages of hail clattering against the rooftop. Severe hail storms hold the potential to loosen or abrade some roofing materials. Even worse, strong wind gusts sometimes accompany a severe storm. The force of high winds may bend or tear flashing, loosen shingles and gutter systems, or even remove entire sections of a roof. If leaks or other damage has already occurred, the presence of a thunderstorm may exacerbate existing problems.
A Timely Response: The Best Protection Against Storm Damage
How should you react after your Roof Suffers Storm Damage? The most important step requires self-discipline: don't make assumptions about your roof's condition. Instead, obtain knowledgeable assistance. Property owners typically notice some types of visible damage, of course. A tree limb penetrating into an attic, or a missing patch of asphalt shingles will likely attract attention from people on the ground. Yet other types of roofing damage prove far more difficult to identify immediately. The only sure way to gain peace of mind concerning the condition of the roof after a storm involves actually checking this important building system: request an inspection by a well-qualified, experienced roofing contractor.
A roofer who possesses experience providing roof repair or roof replacement services knows what to look for to quickly assess possible roof damage following thunderstorms and/or flooding. While property owners easily miss some signs of damage, such as loose flashing or warped and cracked asphalt shingles, a full-time roofing contractor knows the locations to check to spot developing problems quickly. Additionally, these individuals have received training in necessary roof inspection safety measures. They'll exercise precautions to avoid stepping onto weak or damaged sections of the roof. Modern roofing companies require their employees to use protective gear when they work in potentially dangerous settings.
Don't Wait to Take Action
A second important point to remember concerning roof damage inspections relates to timeliness: don't wait too long after a severe thunderstorm to request inspection services. Procrastinating in this situation yields no benefits. If a storm causes hidden roof damage and rain begins leaking through the roof into the residence, it simply makes sense to locate and correct the problem as rapidly as possible. By taking quick action to implement roof repairs, you'll minimize any hazards (and repair bills) caused by unseen water leaks.
Remember, over time water eventually damages wooden surfaces. Roof leaks sometimes result in rain water soaking into attics or through ceilings. Yet in other cases, leaks allow water to enter interior walls or crawl spaces. A leak may remain unseen by the homeowner for a significant period of time. Unchecked interior water leaks hold the potential to warp and rot wooden building surfaces from the inside. The size of leaks may expand in size gradually as time passes. Structural damage or mold growth sometimes occurs before residents grow suspicious about these threats.
KNS Roofing: A Great Solution For Winston-Salem Area Property Owners
Fortunately, KNS Roofing offers a convenient, responsive roof inspection service to assist local homeowners. We assess the conditions of roofing systems on a daily basis. We frequently undertake property roof inspections for customers following storms. As a remodeling company, our personnel possess extensive experience tracking and evaluating both subtle and obvious signs of damage. You can rely on our knowledgeable inspection services.
We'd like to invite you to contact us at KNS Remodeling if you ever experience severe thunderstorms in your area and you'd like a capable contractor to evaluate the condition of the roof. We offer both roof repair and roof replacement services, so we possess a broad background in this field. We look forward to helping you maintain your Triad Area home in the best possible condition!