April 16, 2019
Bathroom Remodeling: Tips to Consider for Bath Remodel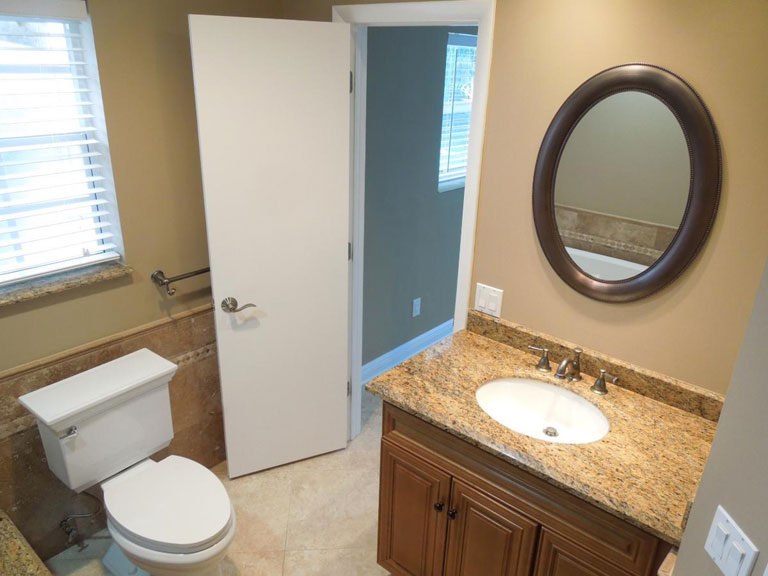 When you look at your bathroom and cringe, it might be time for a bath remodel. Whether it's mostly due to aesthetics or things just aren't working properly, you want you and your guests to feel comfortable when they use your washroom. Bathroom remodeling can be a big ordeal, though. Here are a number of tips to help you get through your bathroom remodel.
Before the Remodel
There's plenty to do before you even start the remodel. This is the time to make your big decisions and have a general plan. This is everything you need to do before the bath remodel even starts.
Examine your bathroom and go over your remodeling priorities
Take a good, long look at your bathroom right now. What things absolutely need to be fixed or changed? What items do you want? Make a list of the most important part of the remodel and then a wish-list. When you prioritize, it will help you make decisions that fit your budget. Understand you might not have the money to do absolutely everything.
Budget
You may have a ballpark budget of what you want to spend but work with your bathroom remodeling contractor to help determine if your budget is realistic for what you want to accomplish. Your contractor has the knowledge and experience to help give you options on ways to make the most out of your budget, while still resulting in a job that you'll be pleased with for years to come.
Get on the same page
If you have a spouse or a partner, you both should be on the same page about everything BEFORE you start the remodel. You don't want to get half-way through and realize you don't agree on the material you want to use for the bathroom counters. Get the decisions made before you start tearing down walls, and it will save you a lot of fighting in the future. The most important thing to agree on is the budget. Once you've established that, the other decisions are mostly cosmetic.
Tips During the Remodel
Remodels are an investment in time and money, but with these tips, you can make the process as painless as possible.
Pick the right materials
Your bathroom obviously has a lot of plumbing and moisture. You need to keep this in mind when picking material for the floor, cabinets, and other items. A carpet is a horrible option for the bathroom because the carpet can trap moisture and cause mold. Look into a tile. Ceramic and porcelain tile are quite popular for bathrooms since they are water-resistant. If you're looking for additional comfort, you can actually look into heated flooring options, which are great for those cold days when you get out of the shower. You won't feel the need to run to get your slippers or go to a room with warmer floors. Plus, heated floors are a great selling point if you plan to sell the house in the future.
It's all about making space
A small bathroom can make someone feel cramped. In fact, it can be a deal breaker. It's best to go through the remodel with a plan to maximize as much space in your bathroom as possible. You can go this by utilizing glass doors and mirrors in the room. You can also place cabinets in thoughtful places, such as above the toilet. If possible, try to use shelves instead of cabinets to give the appearance of even more open space.
Think about ventilation
Bathrooms require good ventilation. It's best to help eliminate certain odors that might occur by installing fans and other ventilation options. These things can also help soundproof the room. These are all things other people will greatly appreciate.
Have fun!
Remodels are expensive and can be frustrating. However, make the best of the situation! Have fun picking out colors for the tile and walls. You can even have plenty of fun picking out new toilets and showers if necessary. This doesn't have to be a horrible experience, so enjoy yourself and tap into your creative side.
Saving Money
No one wants to spend more money than necessary. Here are some simple ways for you to save money during your remodel:
Keep plumbing the same
Unless it really makes the most sense for your space, you may want to avoid moving your toilet and shower. This gets even more complicated (and expensive) than you would imagine because it also requires adjusting the plumbing. Keep it simple.
Consider upgrades instead of replacing
If your toilet and tub have seen better days, that doesn't necessarily mean they have to be replaced. A new toilet seat and new hardware on the tub can do wonders! There are also plenty of alternatives that can make it look brand new. You can even change the color!
Shop the sales
Clothing stores and grocery stores aren't the only stores that put items on sale. Hardware stores do, too! Look for the best deals on paint, tile, and other materials. Go to retailers that will allow you to return the unused materials you don't end up using. Consider getting the material yourself instead of going through your contractor to find the sales yourself. Of course, ask your contractor how much of everything they will need.
Bathroom remodeling is one of those things that can be a pain while you do it, but you'll love it as soon as it's done. Suck it up and get started on your bath remodel now!
Let Us Take Care of Your Next Project
If you are thinking about bath remodel, contact us at KNS Remodeling. Our team has over 16 years of experience with remodeling not only bathrooms but also taking care of various other home repairs and even coordinating full home renovations. We'll be happy to meet with you, discuss your remodeling options, and even provide you with a free estimate for your project. We are the bathroom remodeling contractor who will take the stress out of your remodeling project. You'll quickly realize how we have earned the trust of so many satisfied customers in the Triad.